You can click on the Enquiry button to contact us. However, if you wish to call us, fax us, or send us a letter, here is our contact details.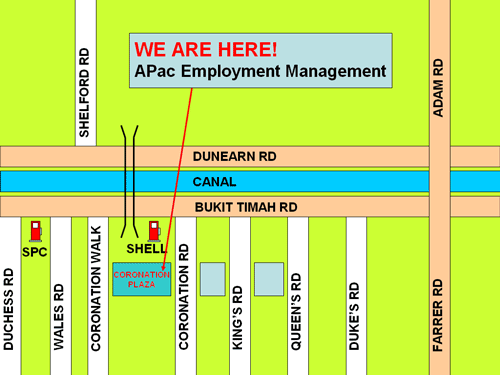 Address:

587 Bukit Timah Road
#03-27 Coronation Shopping Plaza
Singapore 269707

Office Hours:

Monday-Friday- 10:30AM-7:00PM

Saturday -10:30 am to 3:00 PM

Sunday- (BY APPOINTMENT ONLY)

CLOSED ON PUBLIC HOLIDAYS

Telephones

Mobile

(65) 64680200

(65) 64680020

(65) 83660022

(65) 91466633

Fax:

(65) 64660154

Contacts:

FRANCIS CHEN TIEN SENG - R1101852

RACHEL PATENO CHEN - R1101851

Homepage:

http://www.apacmanagement.com

Emails:

rachel@apacmanagement.com

frans@apacmanagement.com
It is our pleasure to have you visit us at our office, please Call for an appointment before visiting so that we can attend to you fast.
Maid - Maids © 2009